R&D, Product Integration = Successful "Aging In Place"
Make text bigger
|
Make text smaller
We're so happy to see the technology sector taking the "bull by the horns" and leading the way in thinking about better ways to make "Aging In Place" a success at home.  One of the leaders of this movement and probably the person that has the best pulse on it all, is a
colleague with great clout and influence in this space, the wonderful Ms. Laurie Orlov.  She's just written a piece for Silver Planet titled "Five New Technologies Advance Aging In Place", and it's worth the read if you are looking for some great new solutions related to caring for someone you love, helping them, watching after them, or even just staying in touch with them.
What I want to comment on is INTEGRATION.  FULL SYSTEMS INTEGRATION.  That takes DESIGN of a solution.  No different than a single grab bar is just a "band-aid" solution for someone that's already taken a fall, and you don't have time to do any more than that before they return home from hip surgery and rehab.  Installation of ONE product, without the ability to zoom out and consider the bigger picture of how it all goes together, can result in a displeasing solution – aesthetically (ugly, out of place), financially (waste of $$), and functionally (doesn't actually work "all together" as it should).
Laurie is on the front of this wave, the "Silver Tsunami" of Baby Boomers and their consumer needs for the next 20-30 years that will drive our economy based on the sheer mass of their demographic numbers, as well as their net worth and disposable income categories heavily outweighing the general population.  Product developers are paying attention, and we're very pleased about that.  What can't be forgotten is that BIGGER PICTURE that results in DESIGNING for FULL SYSTEMS INTEGRATION.  Another great resource for this type of
discussion is Mr. Louis Tenenbaum, and advocate of Aging-In-Place before it even had it's name.  He did his first accessible remodel in 1988 as a contractor, and it changed the direction of his career.  We've had the pleasure of interviewing him (see the link in his name), and next month we'll be on stage with him at the ASA National Conference "Aging In America" to speak on the subject together.
Louis speaks at the 50,000 foot level about ALL the parts of the Aging puzzle, and the systems integration required of communities and multiple industries including housing, healthcare, transportation, urban planning, and others.  We strongly agree with and stand beside him on his stance and approach.  He's authored an excellent piece if you wanted to dig in that deep, titled "Aging In Place 2.0 – Rethinking Solutions to the Home Care Challenge" for the MetLife Mature Market Institute.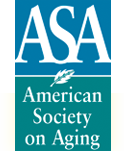 Both of these industry leaders couple well with our own input, thoughts, and stance on the issue as EmpoweringTheMatureMind.com and ADM Architecture.  In our "The Aging In Place Phenomenon" public speaking presentations we make regularly, we get into the "WHAT" and the "HOW" to do for a successful Aging-In-Place journey in your own home as individuals and families.  This is where DESIGN MATTERS.  Not only the implementation of a specific piece of technology (like those Laurie mentioned in her article that were unveiled at the CES show in Vegas) or medical equipment, but how it all goes together with thoughtful and educated professional design solutions working together.  Lighting Matters.  Materials Matter.  Colors Matter.  Layout matters.  Transitions matter.  Accessibility matters.  Approach matters.  Purpose & Intent of Use matter.  Hardware matters.  Acoustics matter.  Technology matters.  Equipment installation location (height, angle, specifications, etc.) matters.  This requires typically a TEAM of PROFESSIONALS.  We are not alone in this journey, and we all need each other.  That applies to our family as potential caregivers and loved ones that can provide insight into the situation and goals for design resolution, and also to our ability to cross industries for solutions that meet the client where they are, in the place they are, with the situations they are facing.  We typically prefer, when applicable, to impart the education of an O.T. (Occupational Therapist), a CAPS General Contractor, and many other potential professional partners when it makes sense that could include a reverse-mortage specialist, etc. – the list goes on as needed.
When we speak publicly , we also discuss the issues at a  neighborhood and town/city level.  We speak about our jurisdictions, the codes, laws, restrictions, and builder incentives that could (and maybe should) be implemented to successfully place as a community for the changing wave in our nation's demographic makeup.  This is all a part of an open, cross-industry discussion that will and should break down barriers and bring us together personally and professionally, pressing us forward to client-driven solutions for each individual.  That will result in a successful "Aging In Place" journey, and that's our goal for each of you, our clients, and our society as a whole to the extent possible for each on of us.  
To our success!
"House or Health" – Chicken or Egg? Re-Zoning our Nation for "Aging In Place"